Award Winners On Display
We have beds & mattresses from Harrison Spinks - Made in Yorkshire not to mention
the 'Which Best Buy Award Winning' Sealy Teramo Latex 1400.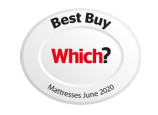 We have so much to tell you about our new bed display...
During the 2nd & 3rd national lockdowns we have invested in a brand new bed display at our Norwich store.
As an independent retailer we are always trying to do something a little different to other bed & mattress stores.
We wanted to add some privacy when trying a mattress which can sometimes be an uncomfortable experience.
We've added softer lighting & have gone all out, creating panelling ourselves & painting until late in the evening.
We now have an amazing home for our divans, upholstered beds and mattresses,
not to mention our fabric headboard collection. Design a bed from many fabrics & foot options and
even add some bling to your headboard with sparkling studs. Shop the majority of beds and mattresses we have on offer using the
navigation above or give us a shout via the live chat as we are constant improving our store with new mattress & bed models.